I've been asked a lot about how we came up with the
girls' names
and I've been meaning to write a post on how their names came to be, so this
All Saints
Day
(well, it's now All Souls because I had to go to sleep at a reasonable hour and finish this post today), I wanted to take the time to share!
***I also have to admit that I am super
obsessed
interested in name meanings in general and never get tired of learning about names. I could talk and talk about new baby names and
flip through
name book
after name book!
I even put June's name meanings on her birth announcement card:
I really like my and Bill's name meanings, too:
Sarah - Of Hebrew and Biblical origin, "Lady," "princess," "princess of the multitudes"
William - Of Germanic origin, "helmet + protection," "strong willed warrior"
... okay, so here we go!
We didn't decide on Addie Jo until shortly before she was born.
We had narrowed her name down to two options and I thought we would go into the hospital and wait to see what she looked like before we decided between the two (which I think we still kind of did).
We BOTH liked BOTH names but Adelaide was mine and the other one was Bill's.
And then, right before she was born, Bill said, "I think I like Adelaide over the other one..."
Even though there are a TON of Addies around, we have yet to meet an Adelaide.
Addison and Addylin are what we hear most, but never an Adelaide.
So that's one of the reasons I really liked it!
AND we chose Adelaide because I really liked the Saint - see the connection to All Saints Day here? ;-)
As soon as we found out she was a girl in August, I was busy looking up saints around the time Addie would be born (we assumed she would come a few days early of her due date, and be a December baby, but oh no, a week late and almost 10 lbs she was - I can never really leave out the 10 lb part), and I came across St. Adelaide.

Here she is -
Patron
of: abuse victims; brides; empresses; exiles; in-law problems; parenthood; parents of large families; princesses; prisoners; second marriages; step-parents; widows
Adelaide of Italy
(931 – 16 December 999), also called
Adelaide of Burgundy
, was the second wife of
Otto the Great, Holy Roman Emperor.
[

1

]
Empress Adelaide was perhaps the most prominent European woman of the 10th century; she was regent of the Holy Roman Empire as the guardian of her grandson in 991-995.
[

1

]
And a little longer version, if you have the time:
St. Adelaide was a marvel of grace and beauty, according to St. Odilon of Cluny, who was her spiritual director and biographer. Daughter of Rudolph II, King of Burgundy, she was born in 931 and at age 15 married Lothaire II, King of Italy. Later their daughter became Queen of France.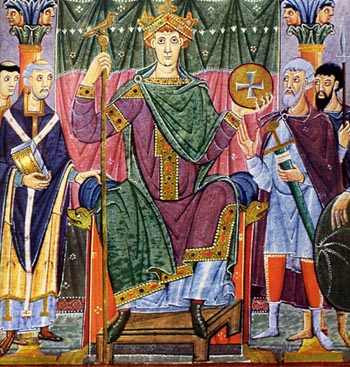 The court of the Roman Emperor at the time of St. Adelaide. Above, her grandson Otto III
Adelaide was 18-years-old when she lost her husband, who was supposedly poisoned by his political competitor Berengarius of Ivrea. The latter soon proclaimed himself King of Italy and proposed to unite Adelaide in marriage with his son. The widow refused and Berengarius confiscated her estates and held her prisoner in the Castle of Garda. St. Adelaide managed to escape and fled to the Castle of Canossa, property of the Church. From that impregnable fortress she directed a plea to Otto I, King of Germany, to come to her aid.
Otto I hastened to her appeal with a powerful army. After defeating her oppressor, Otto became King of Italy and married St. Adelaide. One year later, in 952 he was crowned Holy Roman Emperor in Rome. The eldest son of this marriage, Otto II, succeeded his father as Emperor. At first, influenced by his jealous wife Theohano, Otto II revolted against his mother. Fearing for her life, she fled to Burgundy. There she came to know St. Odilon and became famous for her charities to many French monasteries.
Later, after her son repented, she returned to Germany where she continued her saintly life. She sent a splendid imperial mantle worn by her son to be placed in the grave of St. Martin. She wrote these instructions to the one charged with the mission:
"When you will reach the tomb of the glorious St. Martin, say these words: 'Bishop of God, receive these humble gifts from Adelaide, servant of the servants of God, sinner by nature and Empress by the grace of God. Receive this mantle of Otto, her eldest son. You, who had the glory to cover Our Lord with your mantle in the person of a poor man, pray for him.'"
After Theophano died, Adelaide became the regent of her grandson, Otto III. She used her position to help the poor, evangelize, and build and restore monasteries and churches. When she felt her end was near, she asked to be taken to the Convent of Seltz in Alsace that she had built. She was laid to rest next to the tomb of Otto the Great, her second husband.
Kind of looks like a princess who would become future empress of the Holy Roman Empire, right?


And then there's Addie's Middle Name:

Josephine - Of Hebrew origin; feminine form of Joseph, "God will increase"


Josephine
is a family name from a few generations back and also my
Confirmation name
, but again, I liked it because of the
Saints
,
St. Josephine
and St. Joseph!
Okay, I love this stuff, so I'll keep going with it, but please feel free to jump ship if you haven't already!
Moving on to JUNE...
Which is another story entirely!
This is what triggered how the name of our next girl came to be -
We watched this movie back in January after we found out we were having another girl, and if you haven't seen it, there is a seen where Tom Cruise must have said YELLED June's name 16 times, so something must have struck a chord with Bill.
And then he remembered how much he likes June Carter Cash,
and then he realized she'd be born in June.
So he started calling her June Bug.
And the rest is history.
(That was back in January and he didn't budge on the name. He wouldn't even listen to other name options. Even though I liked the name, I kept thinking what if we don't have any more girls - this will be the last girls' name we get! So it pretty much took me those 4-5 months to come around. We did have a second name that he liked, too, at the end (at least he said so), but he just wanted to stick with JUNE). Bien.
So he got that one. Except now he doesn't even call her June!
The June has been dropped and it's just Bug, or Bug, Bug, or Buggie.
So there's our June Bug and here's her name meaning...
(Not only is June not a saint name, but it's actually pagan; random right?! But we still love the meaning... So we had to go POWERHOUSE Saint with her middle name - a form of MARY!)
June - "Young." The month of June was named after the Roman goddess Juno, protectress of women and of marriage. In modern times, June is therefore known as the bridal month.
Mercedes - "Mercies." From the Spanish title of the Virgin Mary, "Our Lady of Mercy."
Here is Our Lady of Mercies in her powerhouse glory!
Kind of looks like a "young Mary of mercies?"
So there are our GIRL NAMES that we just love, including the SAINTS they are named after!
Happy Halloween, ALL SAINTS, and All Souls days!